.
Guide for choosing a Christening Gown and Baptism suit
Here are some tips for choosing Baptism clothes based on different material characteristics and styles of Baptism clothes. In Sweden, we have a long tradition of linen that has been cultivated and woven into beautiful fabrics för generations. Linen is a beautiful natural material with several fine character traits, and it has a slightly coarser texture that gives life to the fabric. Unbleached linen has a beautiful beige/gray tone, but for Baptism clothes, often bleached white or "off white"material is used. Linen is durable but easily wrinkled, but in a beautiful way and is therefore very popular among the largest fashion houses' collections.
We have carefully searched for our linen fabrics all over Europe, where the finest linen is often produced in the Baltic countries. We ordered about 100 samples before we finally found a wonderful linen quality. It does not wrinkle as much because it is made extra soft. It is woven in a thicker, more expensive quality than many other linen fabrics, which are often thin and easily become transparent. Our linen garments do not require an underdress. Additionally, they are softend and that gives a soft fall, less wrinkels and makes the linen comfortable against children's sensitive skin.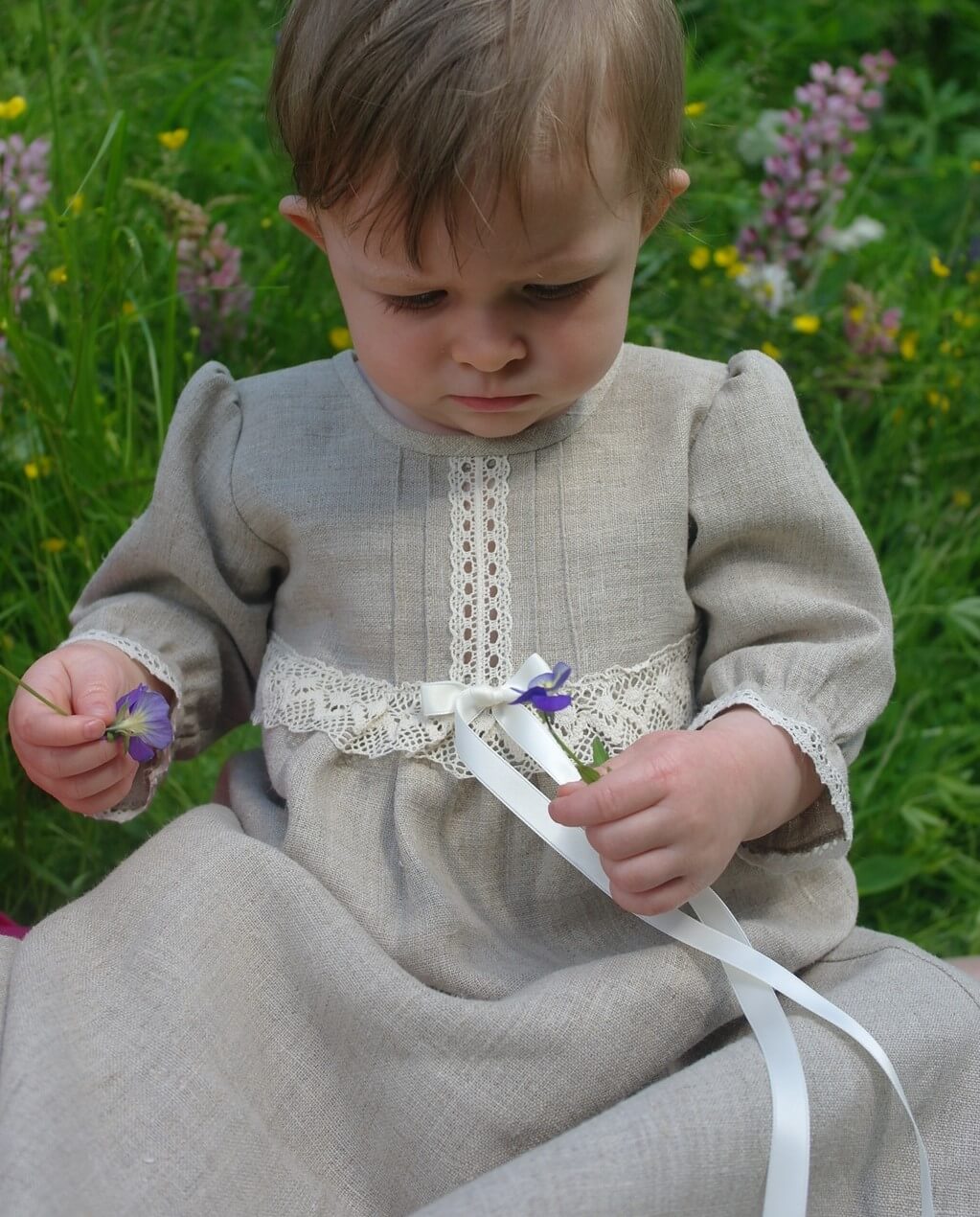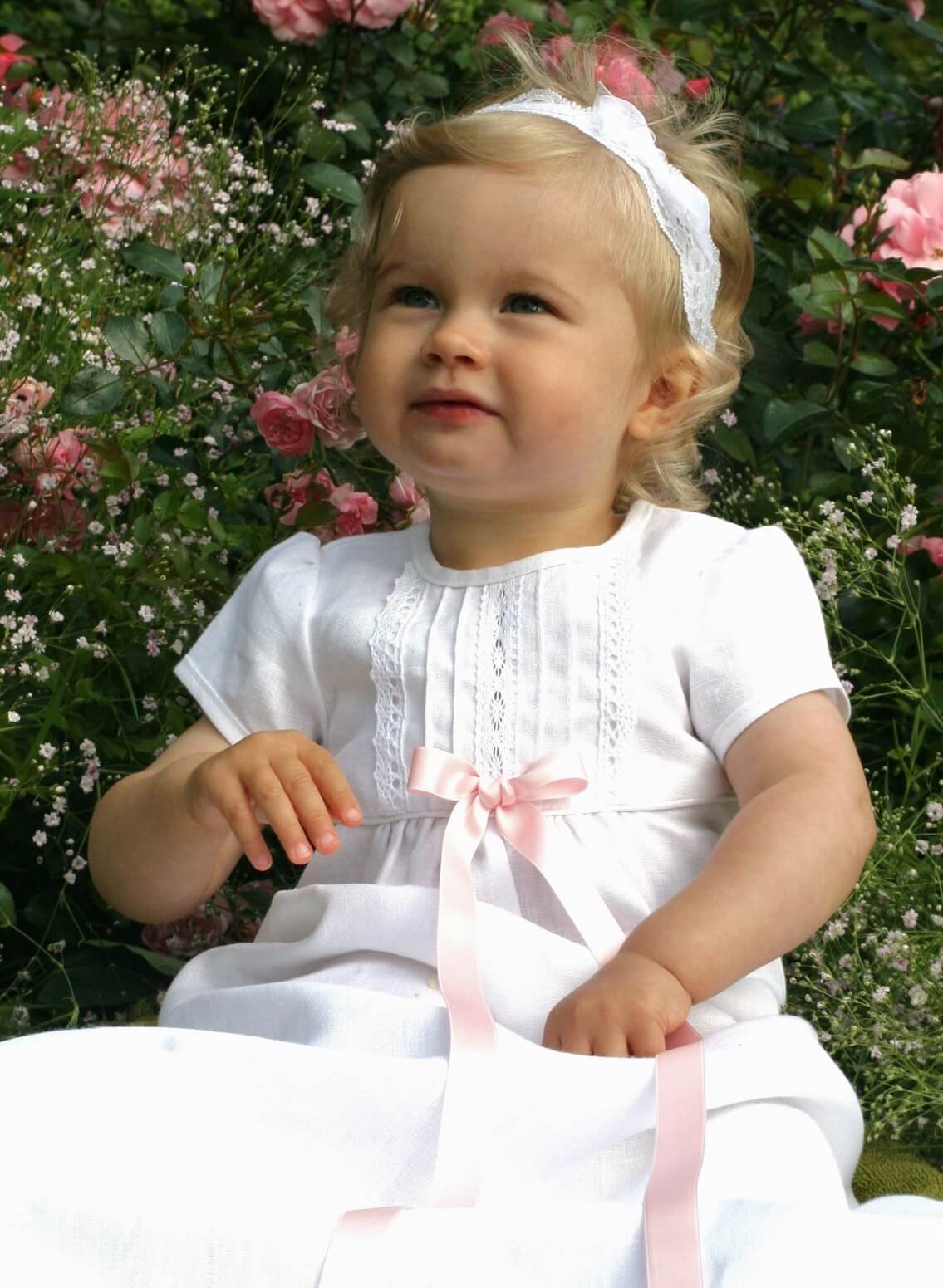 Cotton is also a popular material for Baptism gownes. It has been used in Sweden since the turn of the century. In the 1960s, embroidered patterns became common in cotton Baptism clothes. Cotton can also wrinkle, but is easier to care for than linen. One can advantageously choose cotton that is blended with a little synthetic or elastane to get a more wrinkle-resistant and easy-to-care-for Baptism gown.
For our sailor suits, we special order a fine satin cotton from a factory in Turkey that weaves it for us. With a touch of elastane, we get it just flexible enough, and with an exclusive satin glossy quality that is slightly elastic and therefore both comfortable to use for the baby and less wrinkled. The finest cotton is considered to come from Egypt. From it, we create beautiful Baptism clothes with an old-fashioned feel from the turn of the century.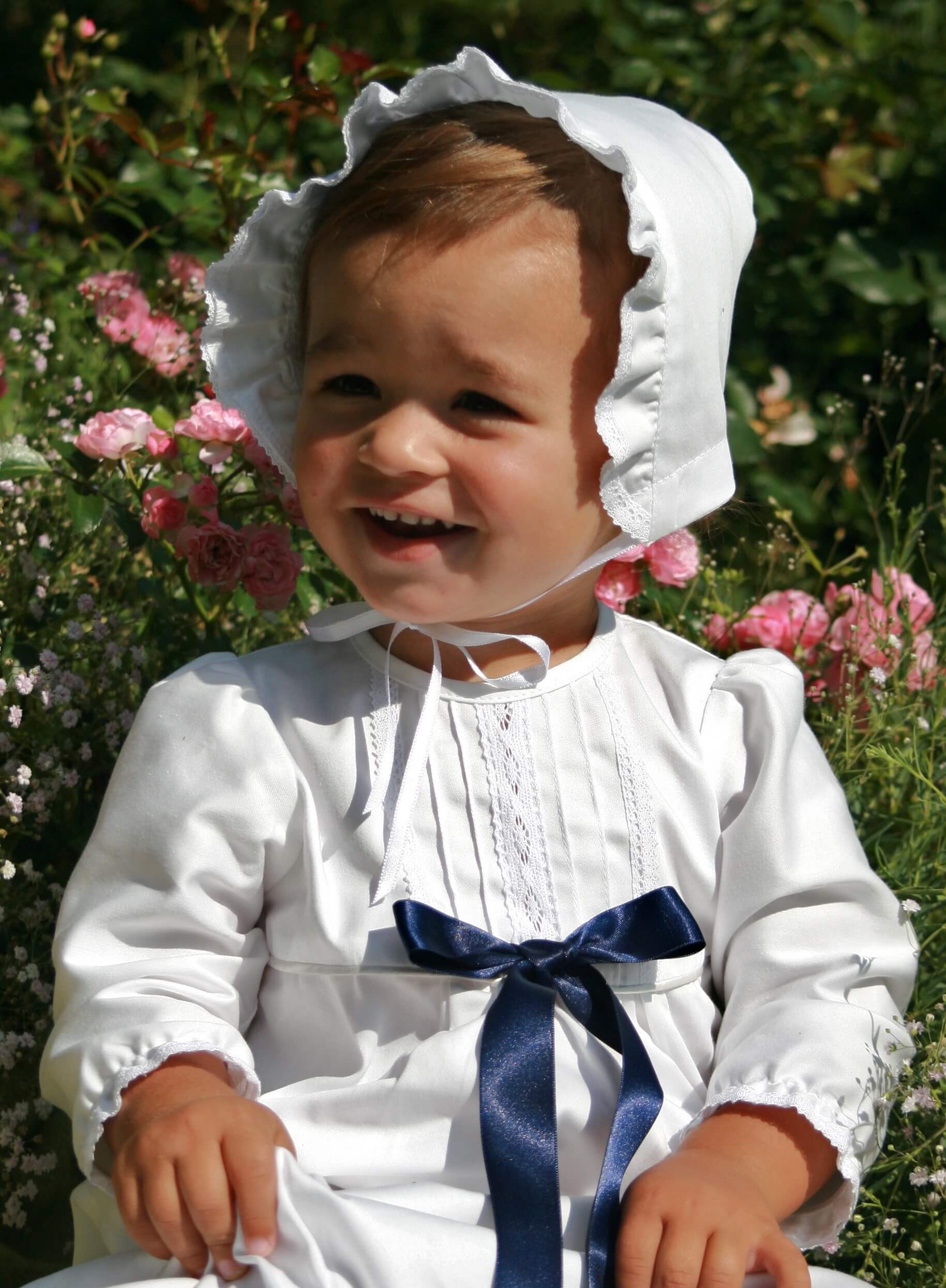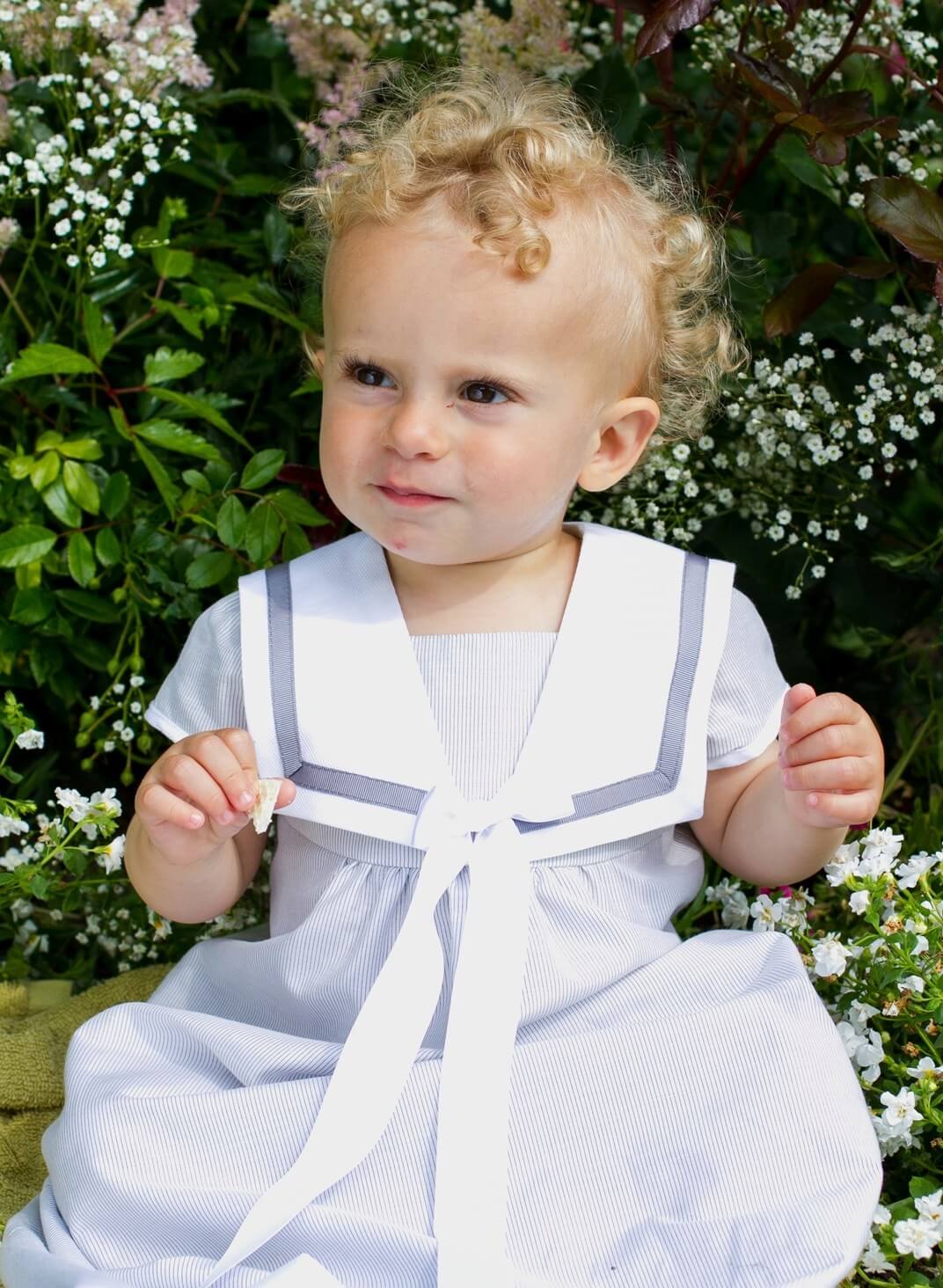 Sailor clothes are equally stylish for all different occasions. They have been around since the turn of the century and never go out of style. Their class and ceremonial feel are as modern now as they were then. We have them in several different models and color tones. With us, you will find both sailor Christening gownes and Baptism suits with a classic sailor collar and beautiful ribbon decorations.
A garment that will be loved heirloom for generations in your family.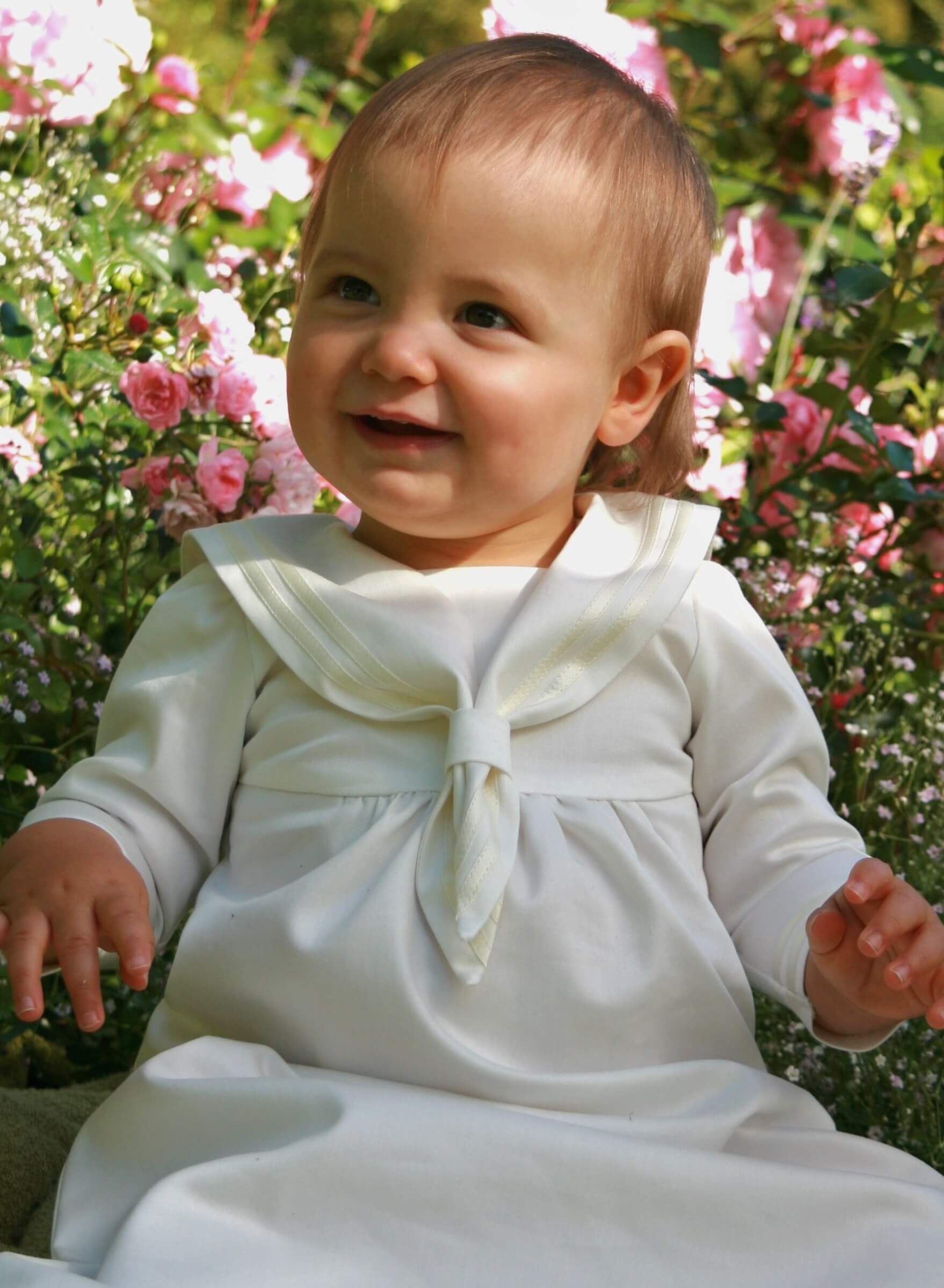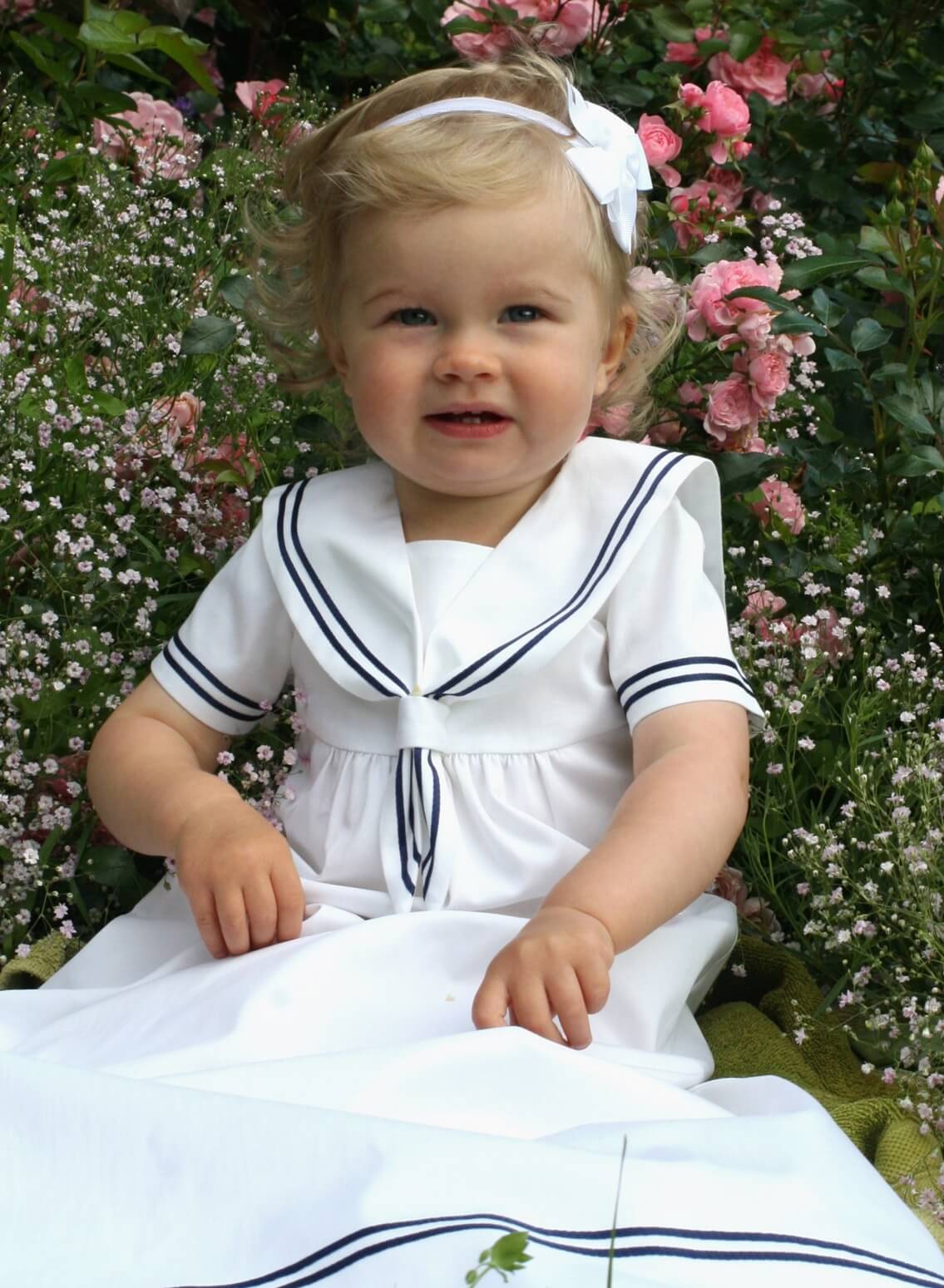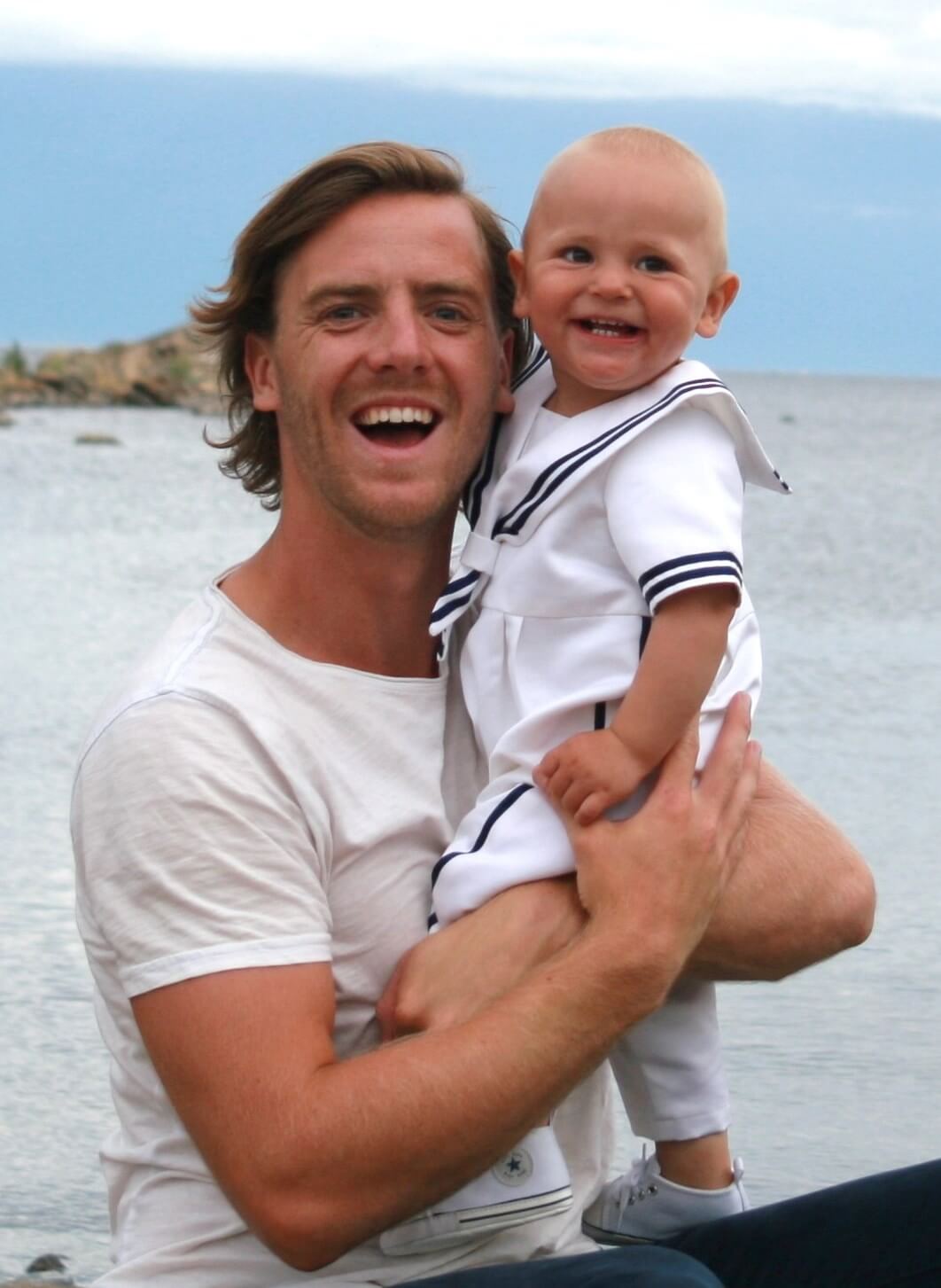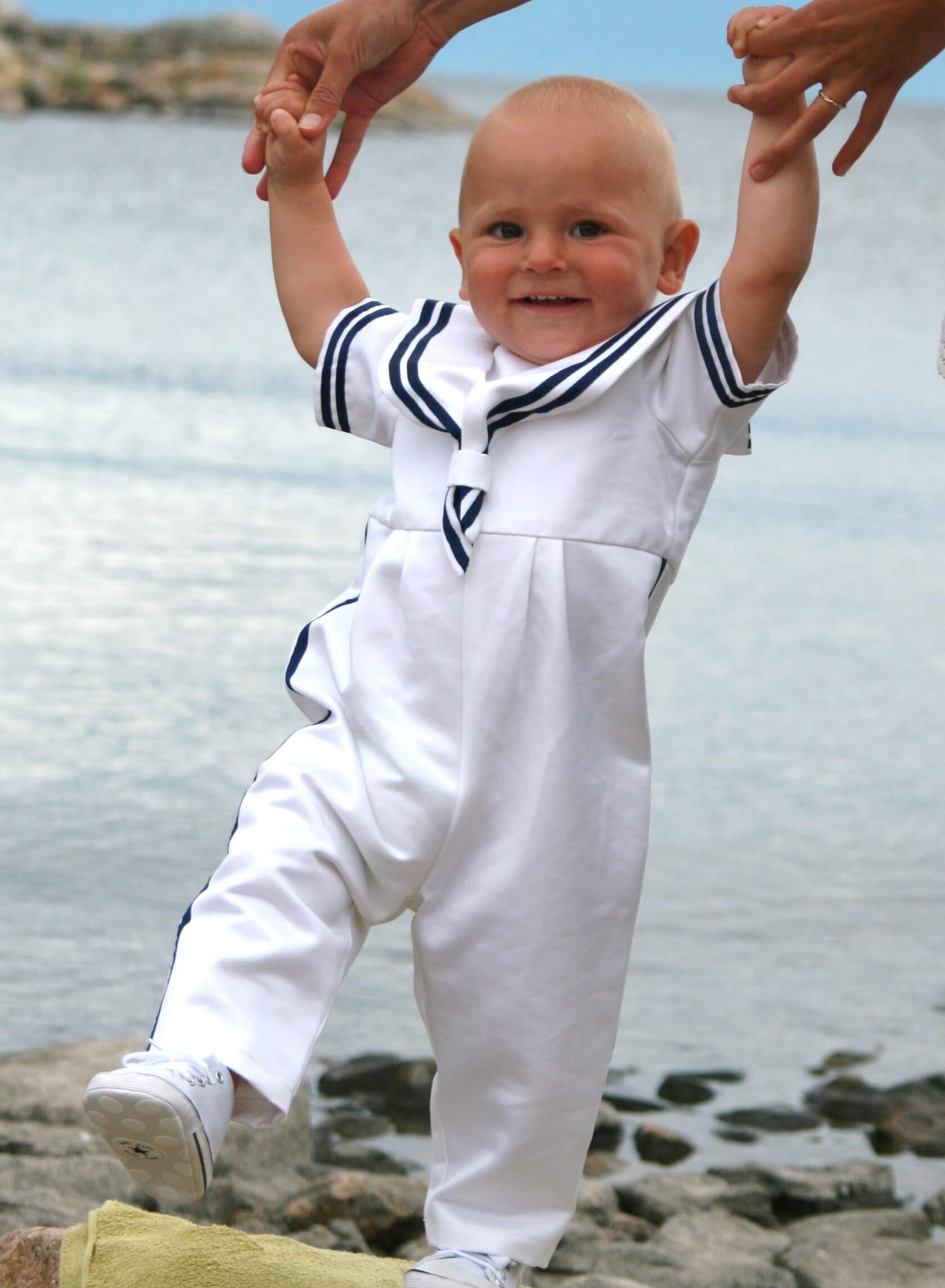 Silk is a wonderful and exclusive material that comes from the thin threads of the silk worm. It has a unique shine and a drape that few fabrics can compete with. Silk provides warmth in cold weather and cools in warm weather, which is a unique quality.
However, we avoid silk despite its fine qualities because it is difficult to care for as baby clothing. For example, drool can easily cause stains on the fabric, and stains can be difficult to remove if you want to use the baptism garment for several generations. Thai silk and taffeta require dry cleaning to maintain their beautiful surface.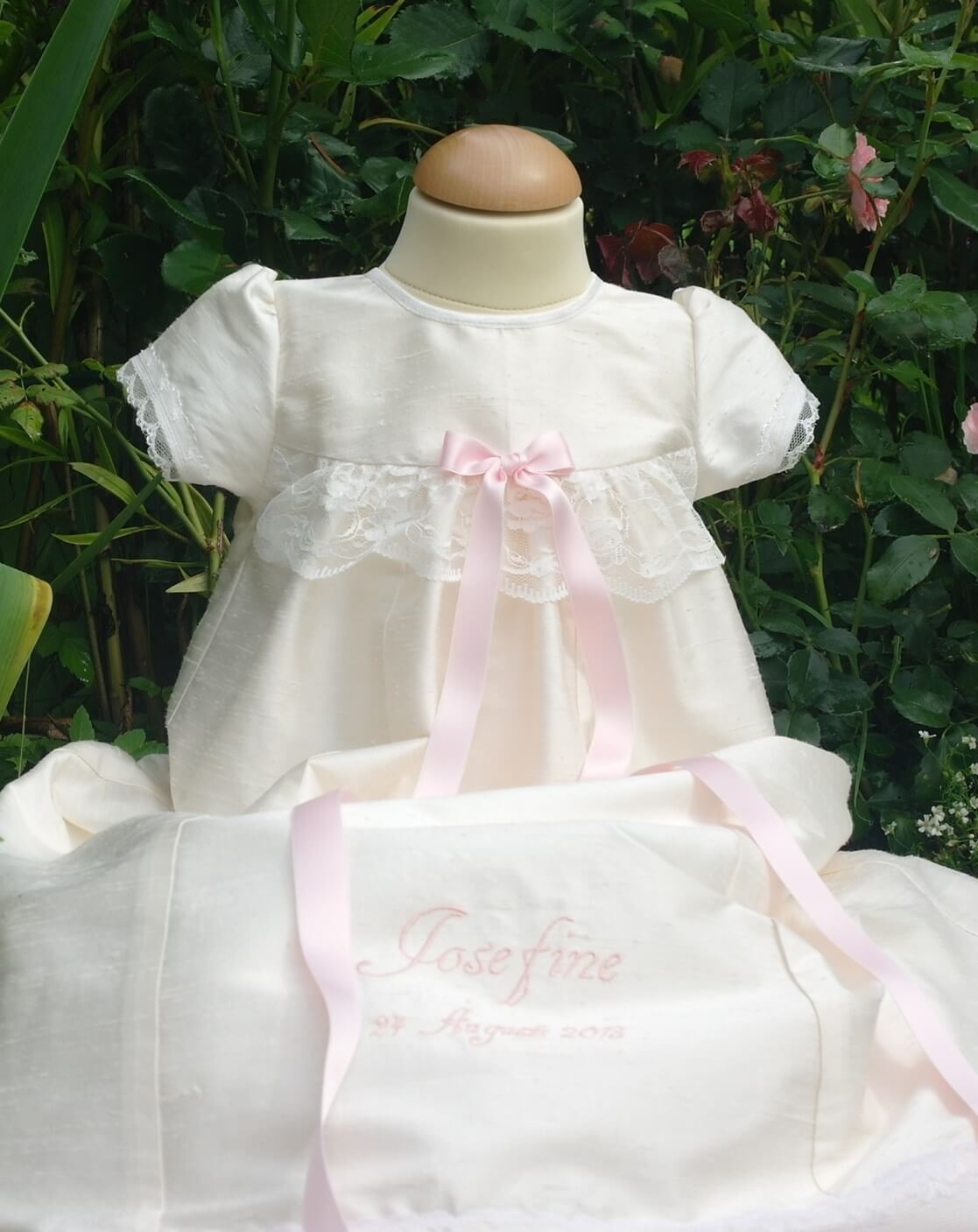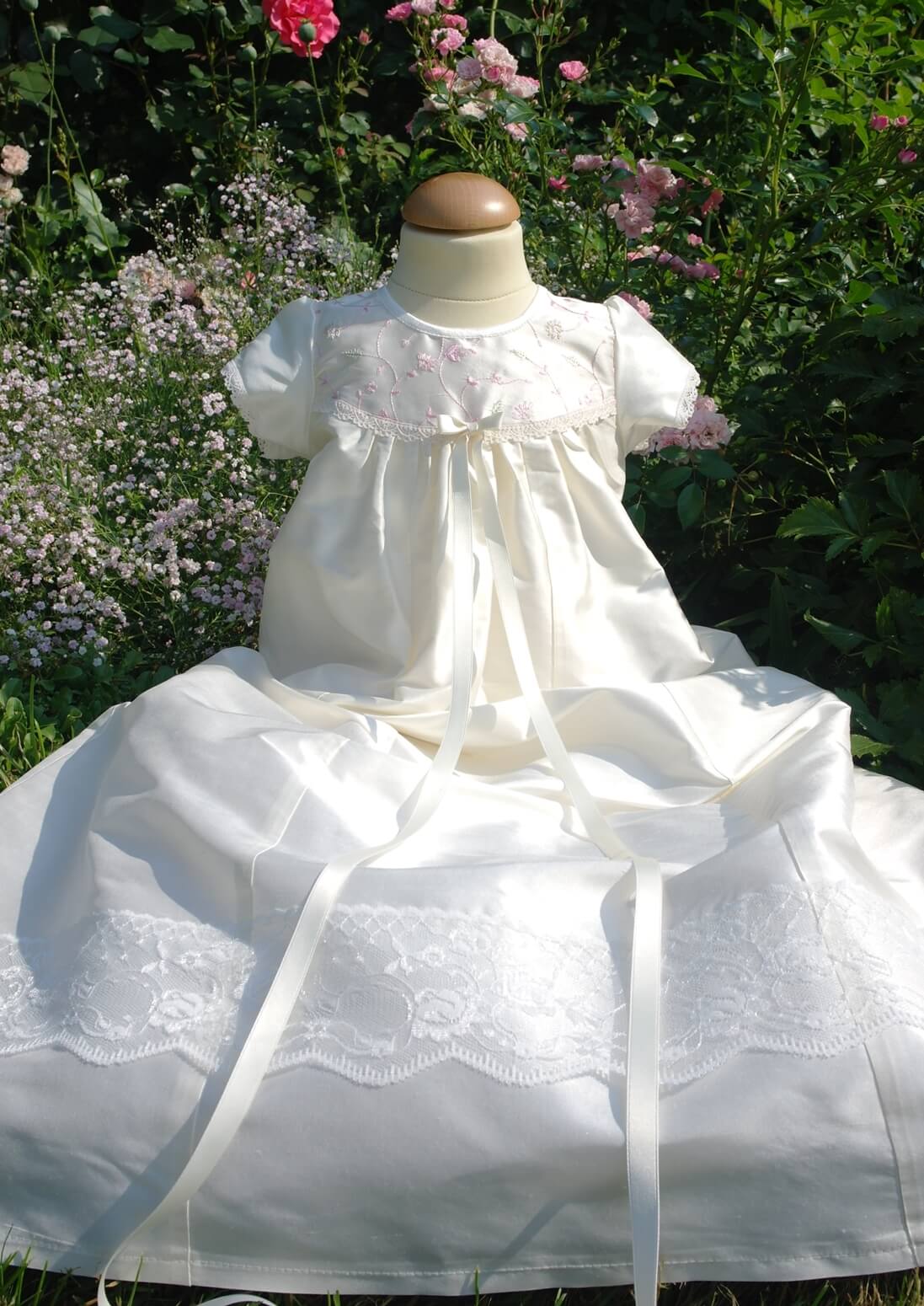 Synthetic satin is a good alternative to natural silk for Christening clothes. Some can be difficult to distinguish from genuine silk satin, but the advantage is that they are easy to care for while still having the beautiful luster and heavy drape of silk. Some models can easily be rinsed off in the shower or washed up in a sink and hung to dry. With a gentle press on low heat, you can restore them to their original condition. If you are traveling to your Baptism, it is a very good option because the material is easy to pack and the garment will look nice again after a light ironing.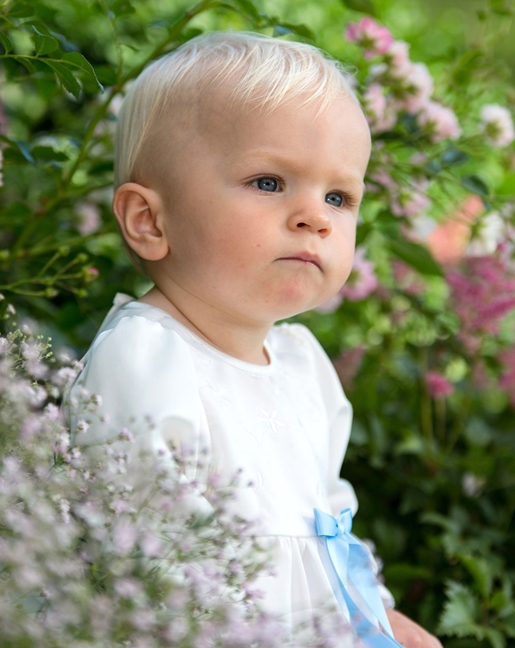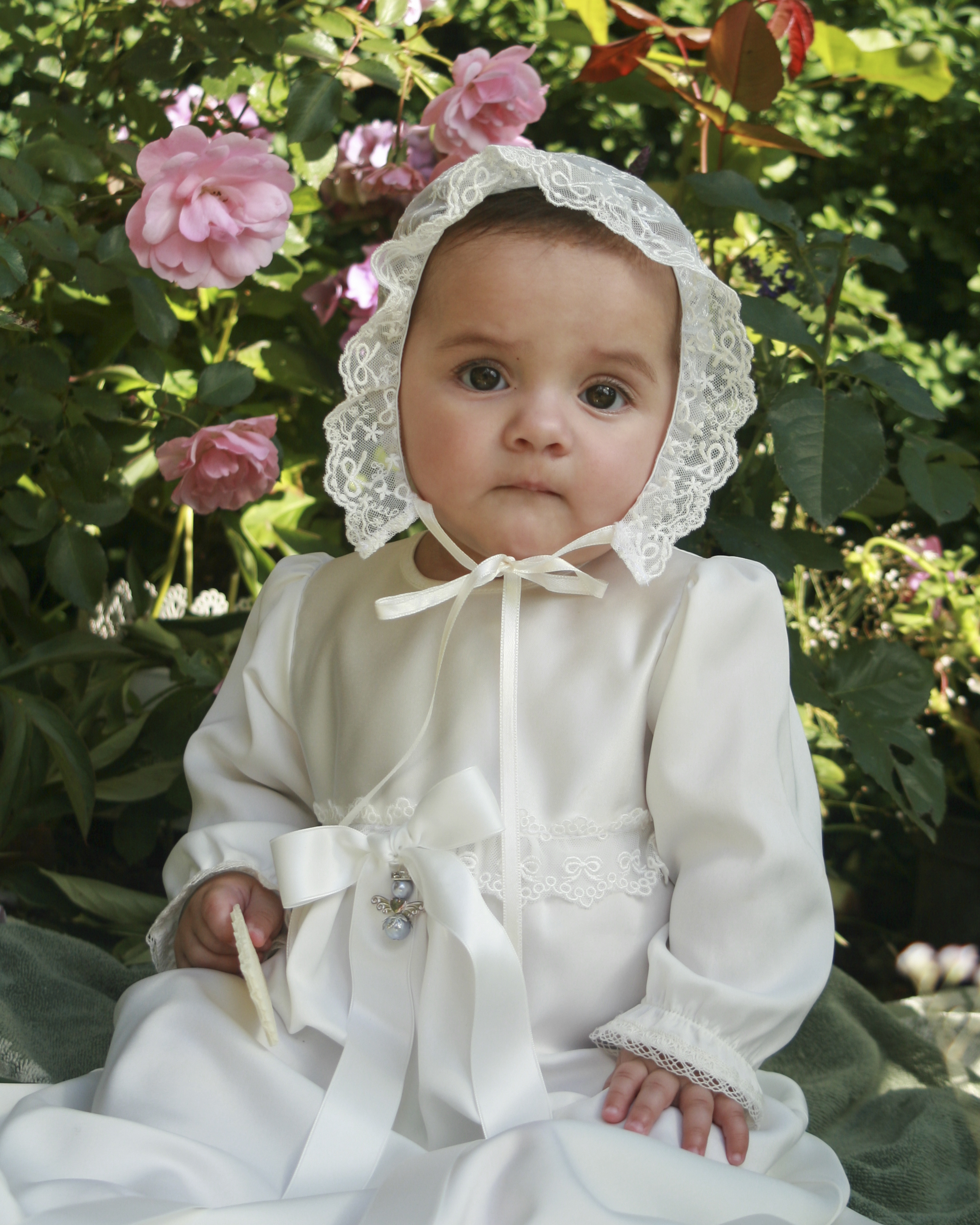 Lace Christening gownes create a romantic look. A Christening ceremony is one of the few occasions in life where both boys and girls can advantageously dress in lace. A very beautiful lace Christening gown belongs to the Swedish royal family's collection. Many generations of Swedish royals have been Baptized in this beautiful gown. It is an exquisite piece of craftsmanship that consists of exclusive lace details.
We have our own more modern version, but inspired by the court's Christening gown. It's called Grace-Estelle.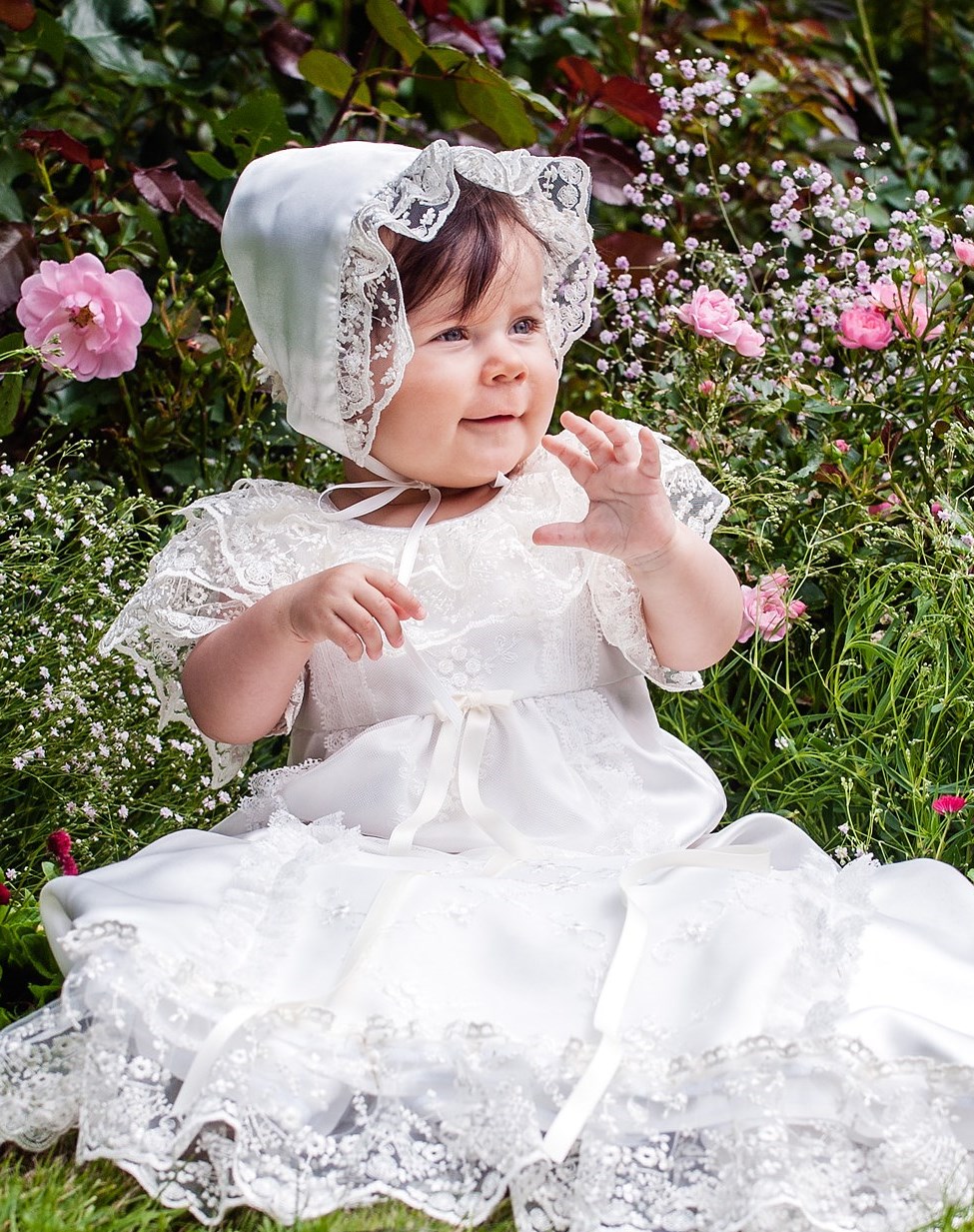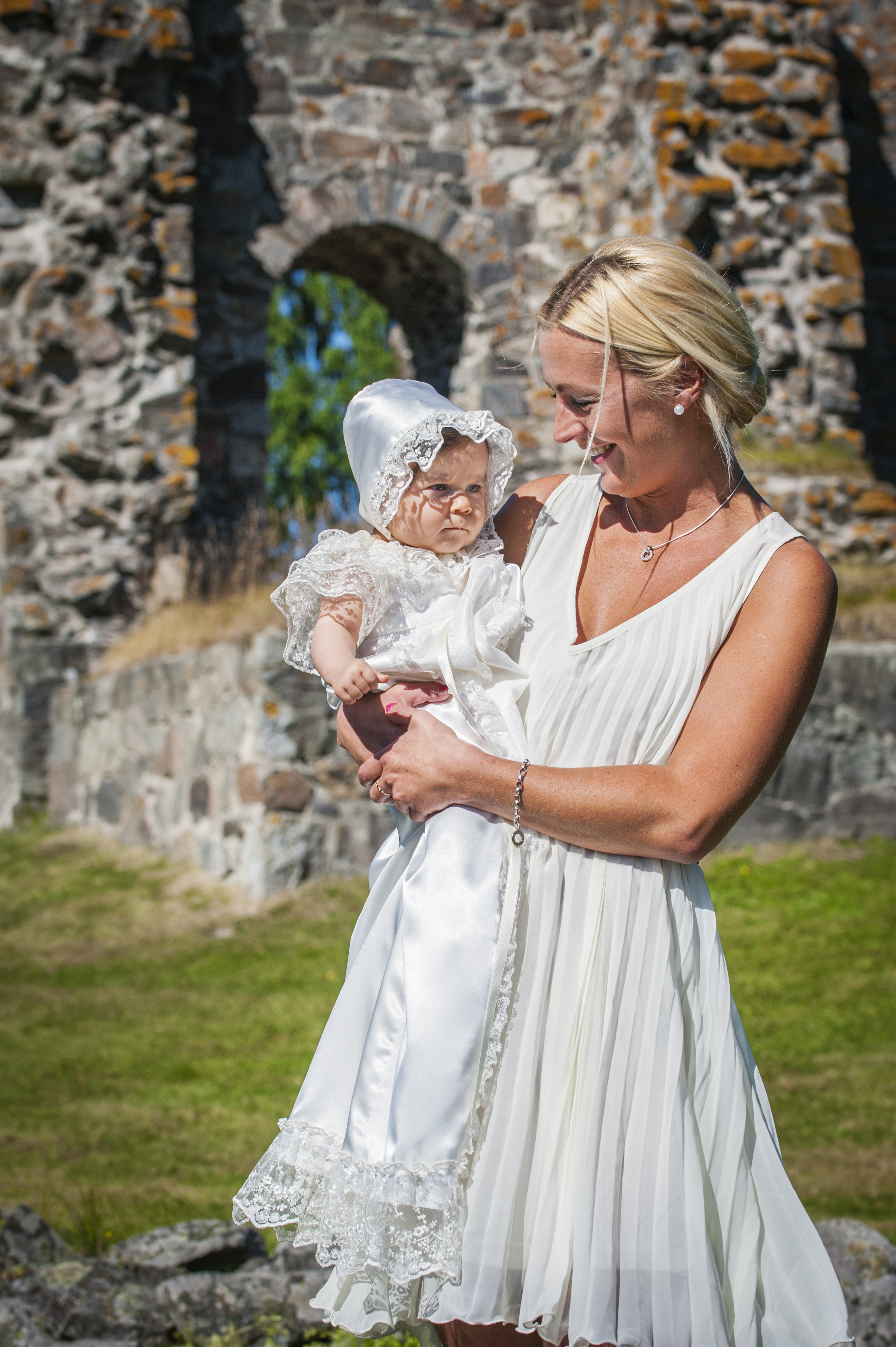 For those who want something truly special, we offer custom-designed Baptism gown based on your own preferences. Together, we will create your Baptismal outfit, and you will receive a price and material proposal before we begin. You can purchase the fabric yourself if you have seen something specific you want, or if you want to reuse your wedding dress or other beloved family heirlooms such as your grandmother's hand-embroidered bed linens or the tablecloth from your summer cottage, etc.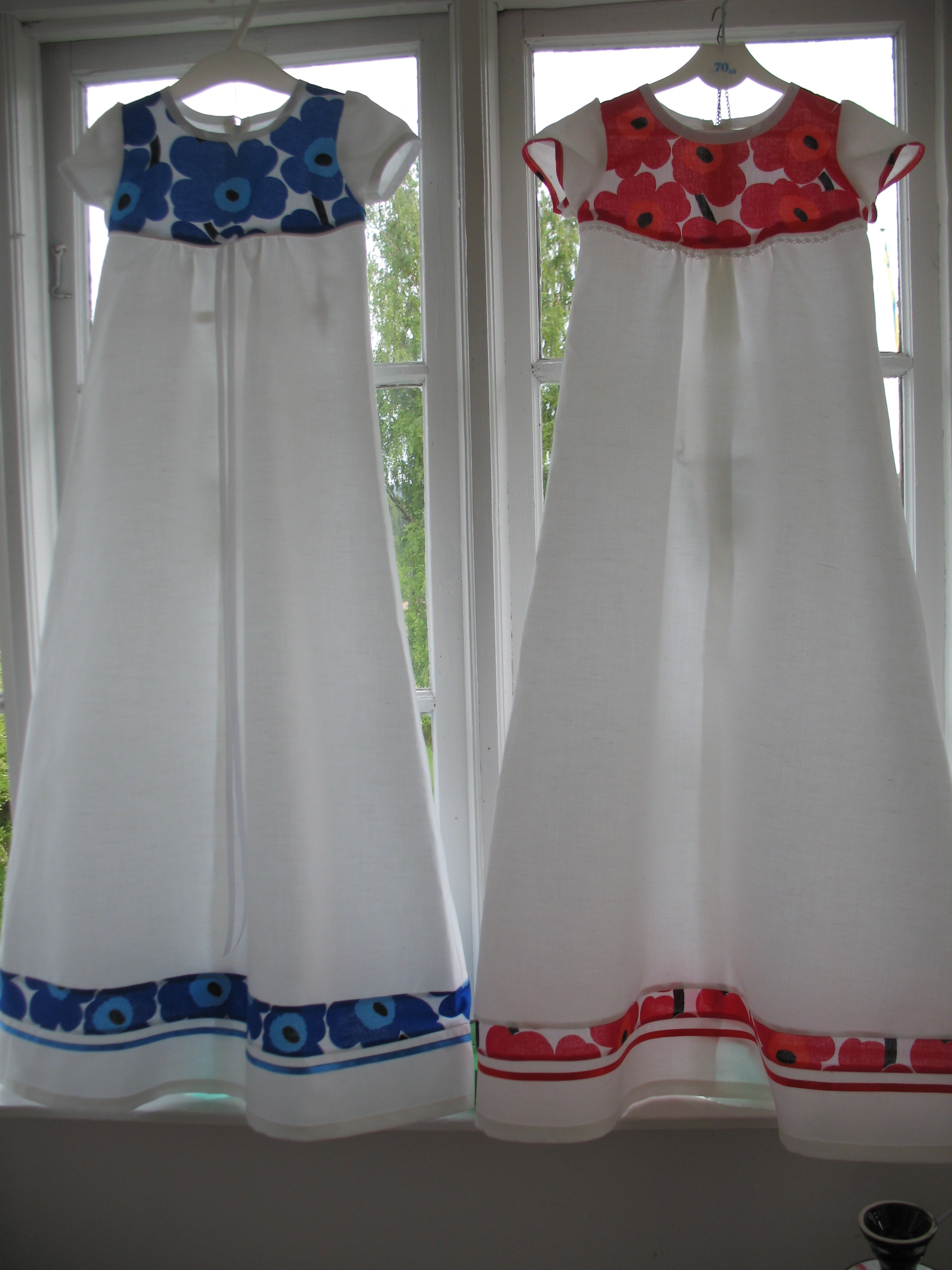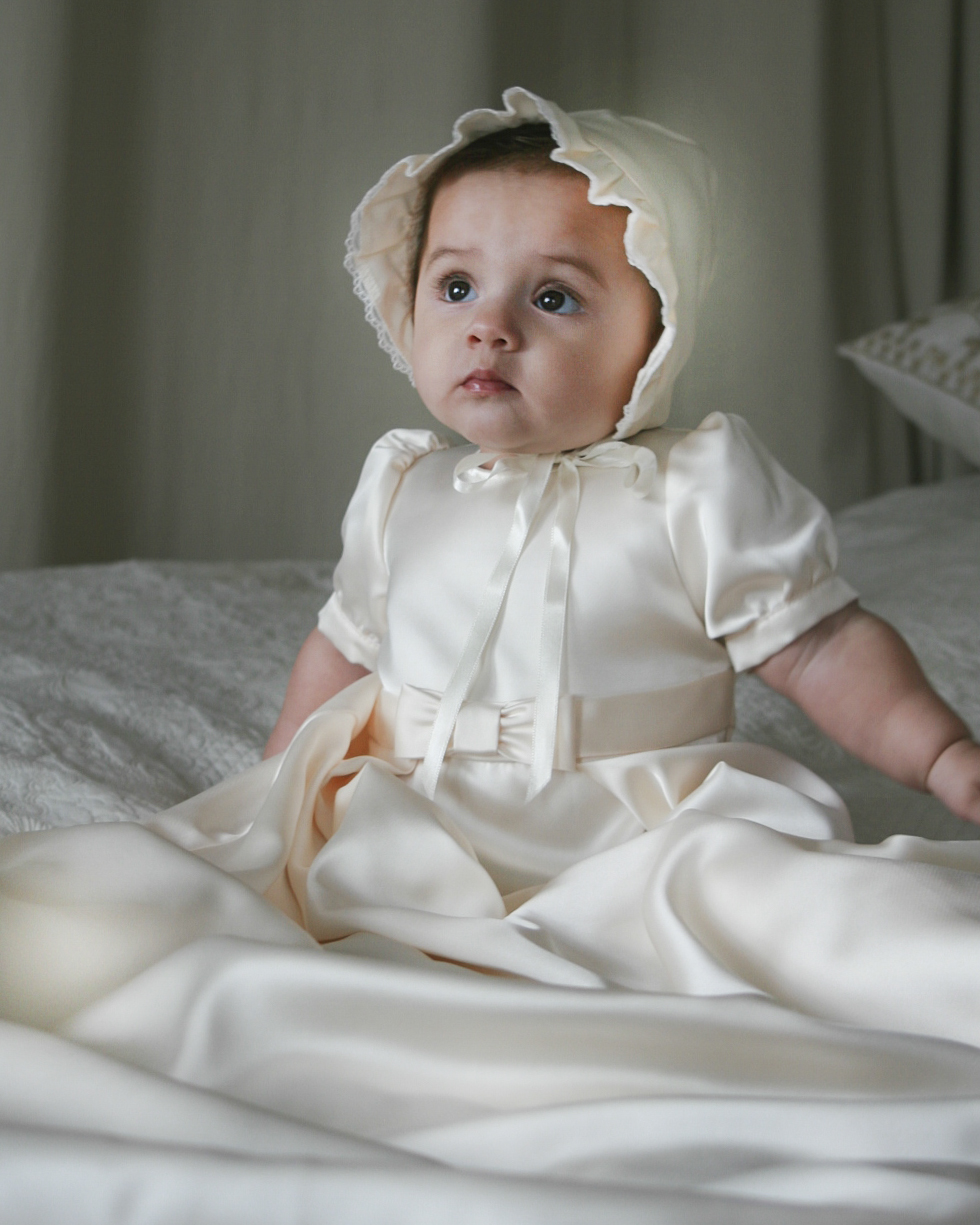 Here you see Tessan's Special made Christening gown that we designed with a wonderful lace from Dolce & Gabbana.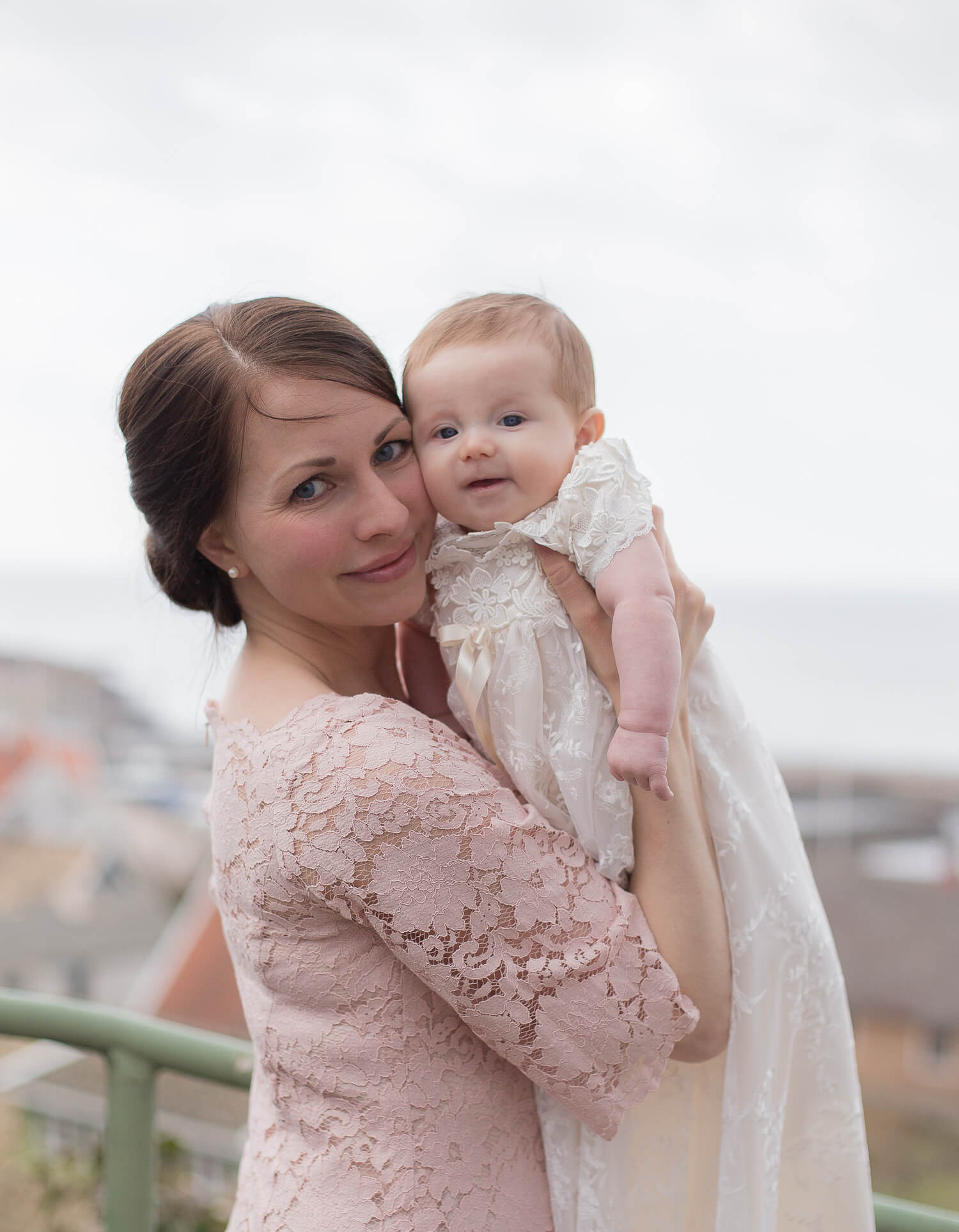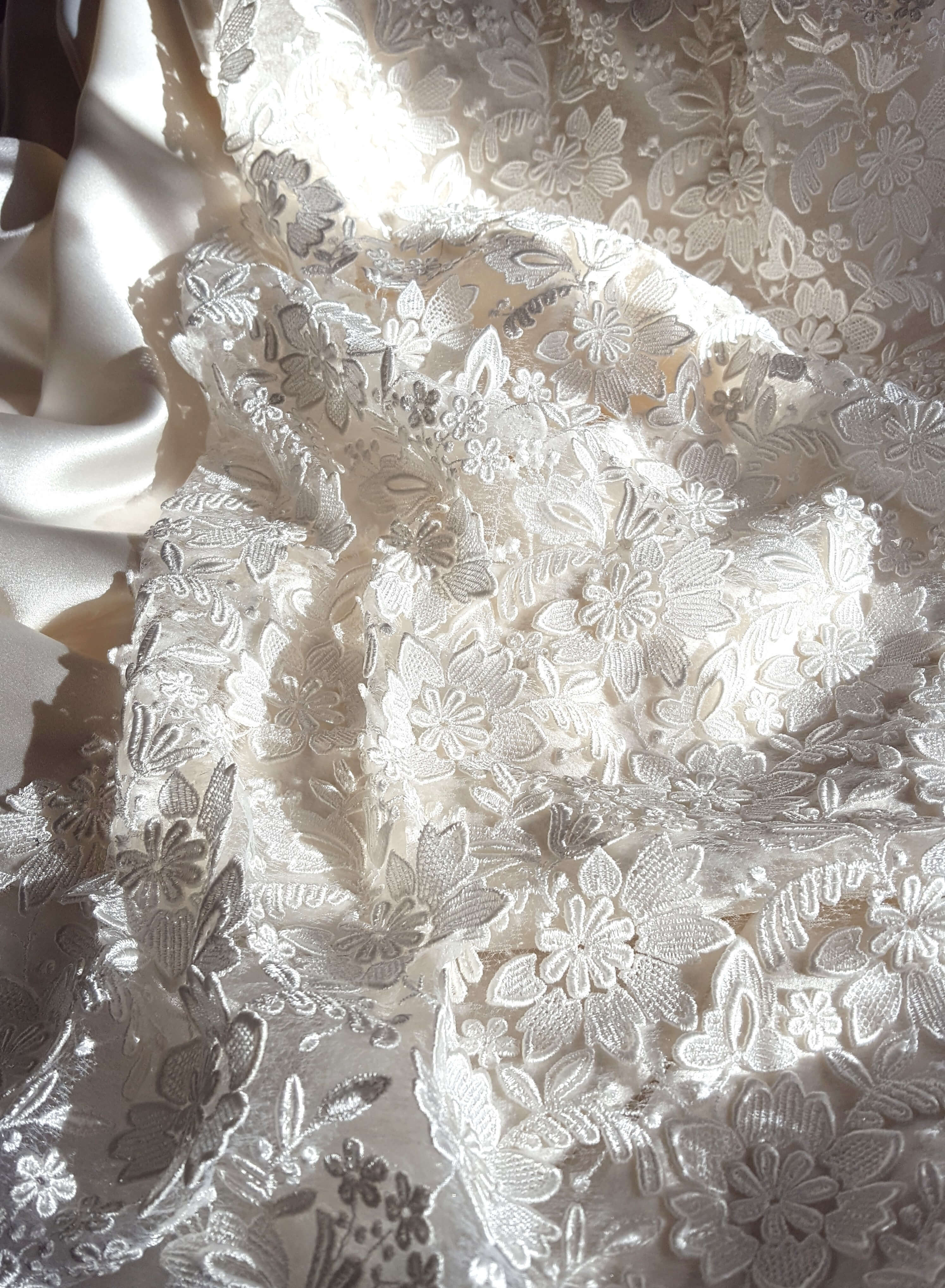 Chiffon Christening gowns have a sheer appearance with a beautiful drape that is perfect for newborn Baptism. If you wish to embroider your Christening gown, chiffon may not be the best choice, but if you only plan to embroider the child's name and pass it down as an heirloom, it will work. Another option is to embroider on the Baptismal ribbon, and each child can have their own Baptismal bow as an heirloom. It is also possible to embroider on the lining, but some have acetate lining which is too thin.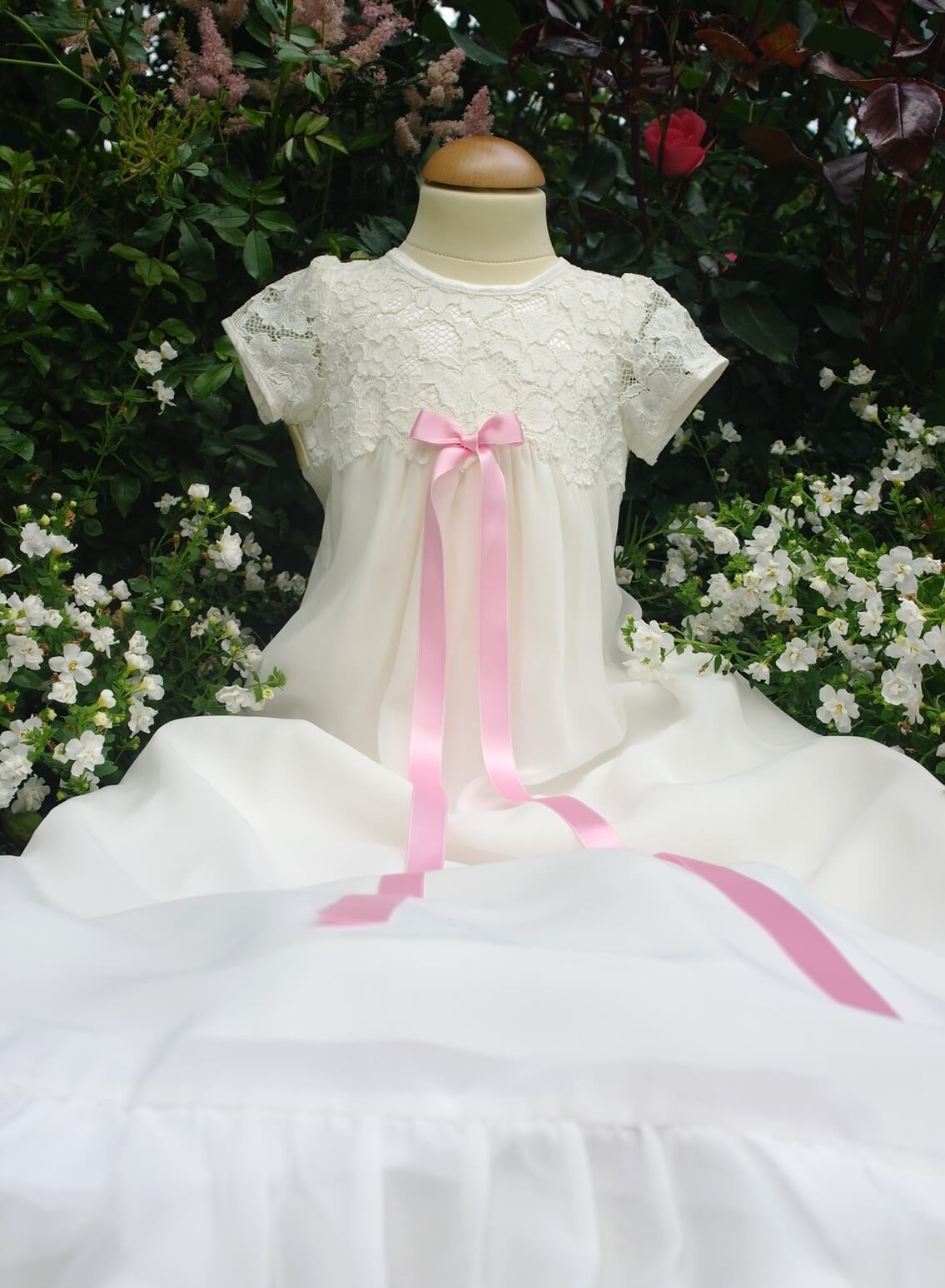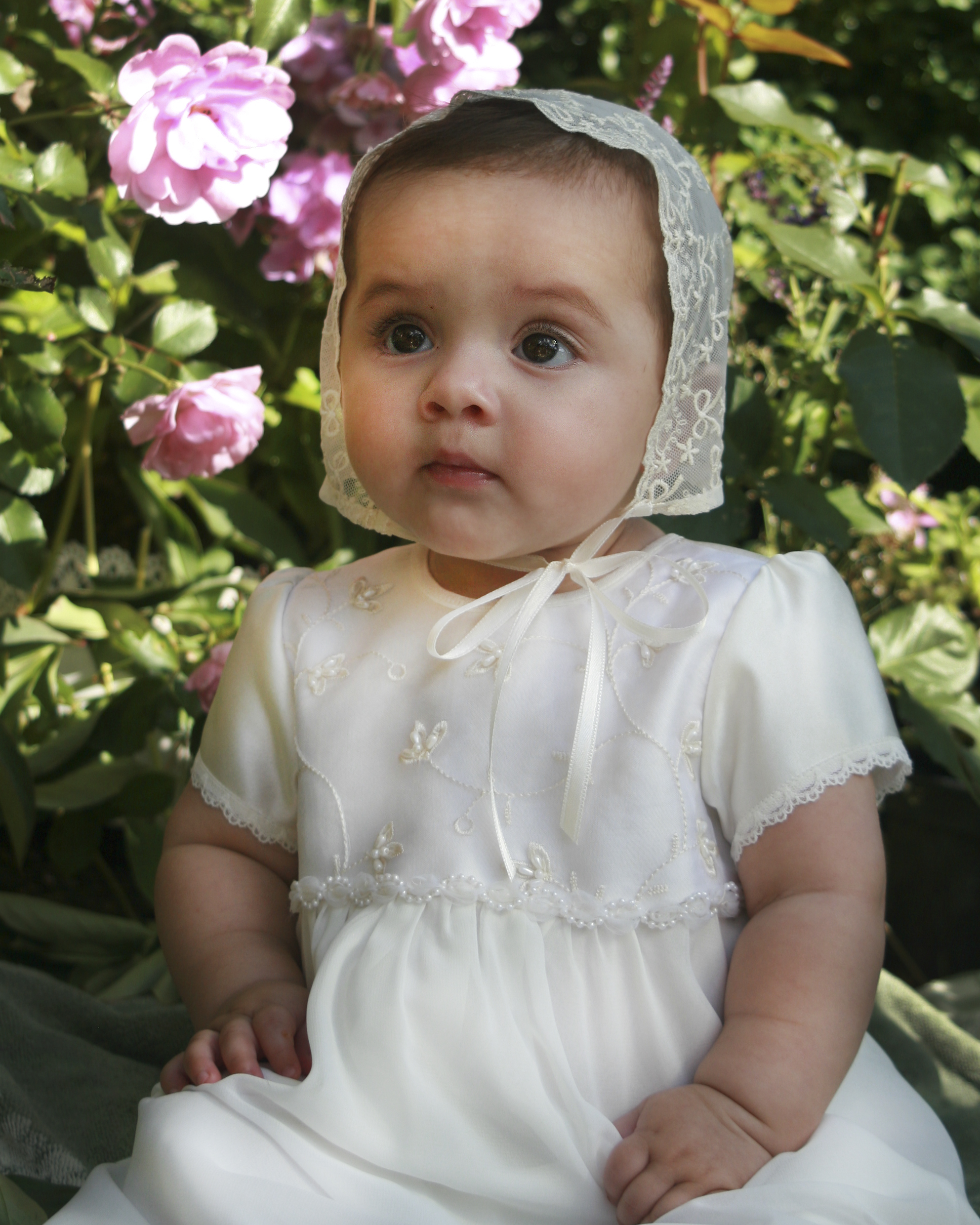 We take great pride in designing Baptismal clothes specifically for boys.
We know that boy-parents are often disappointed by a dull and stereotypical selection of clothing for their sons. And on the Baptismal side, many feel that most options are geared towards girls. Therefore, we take extra care in designing unique, stylish Christening clothes with a great fit for boys, so that parents can enjoy the feeling of having found the perfect Baptismal garment to enhance their special day!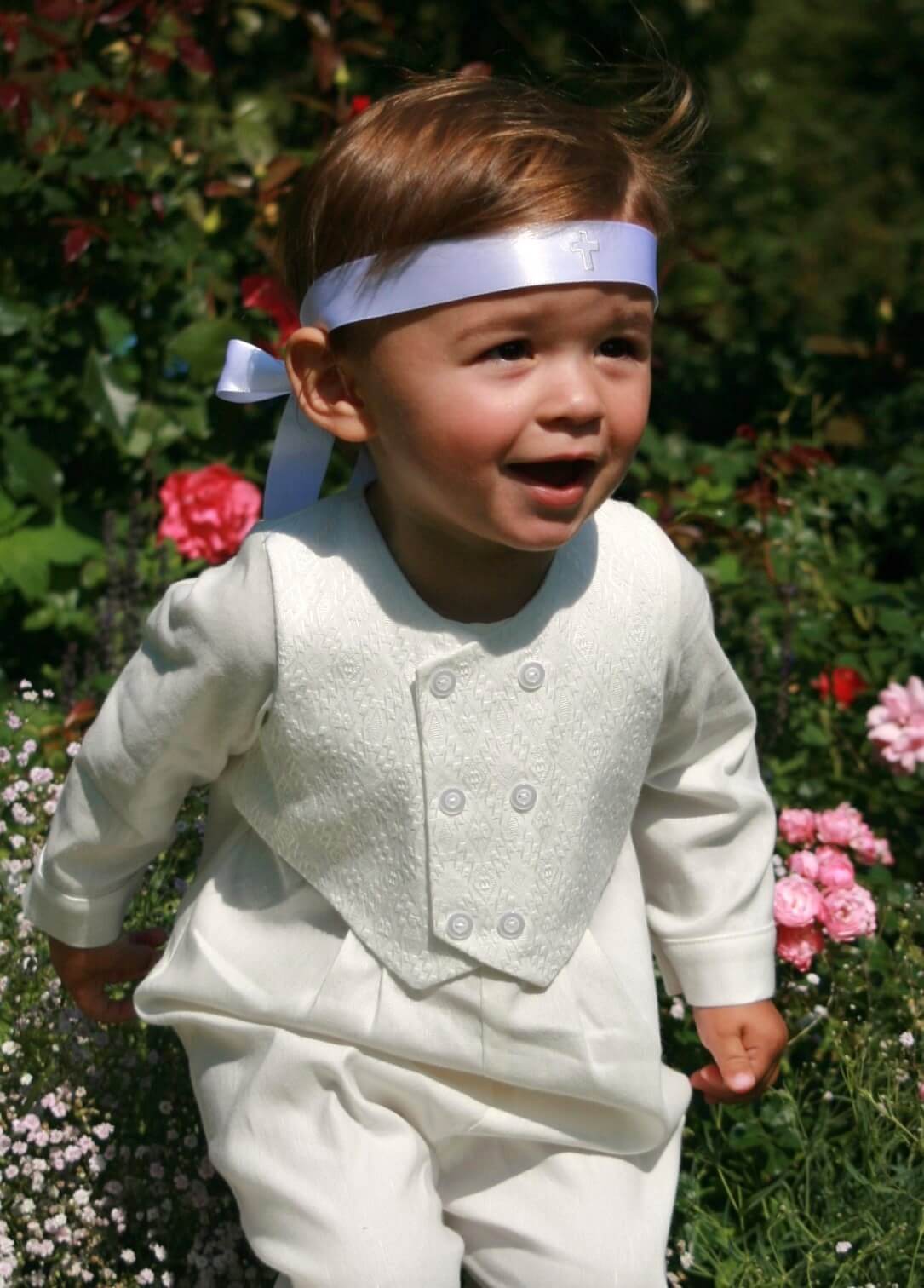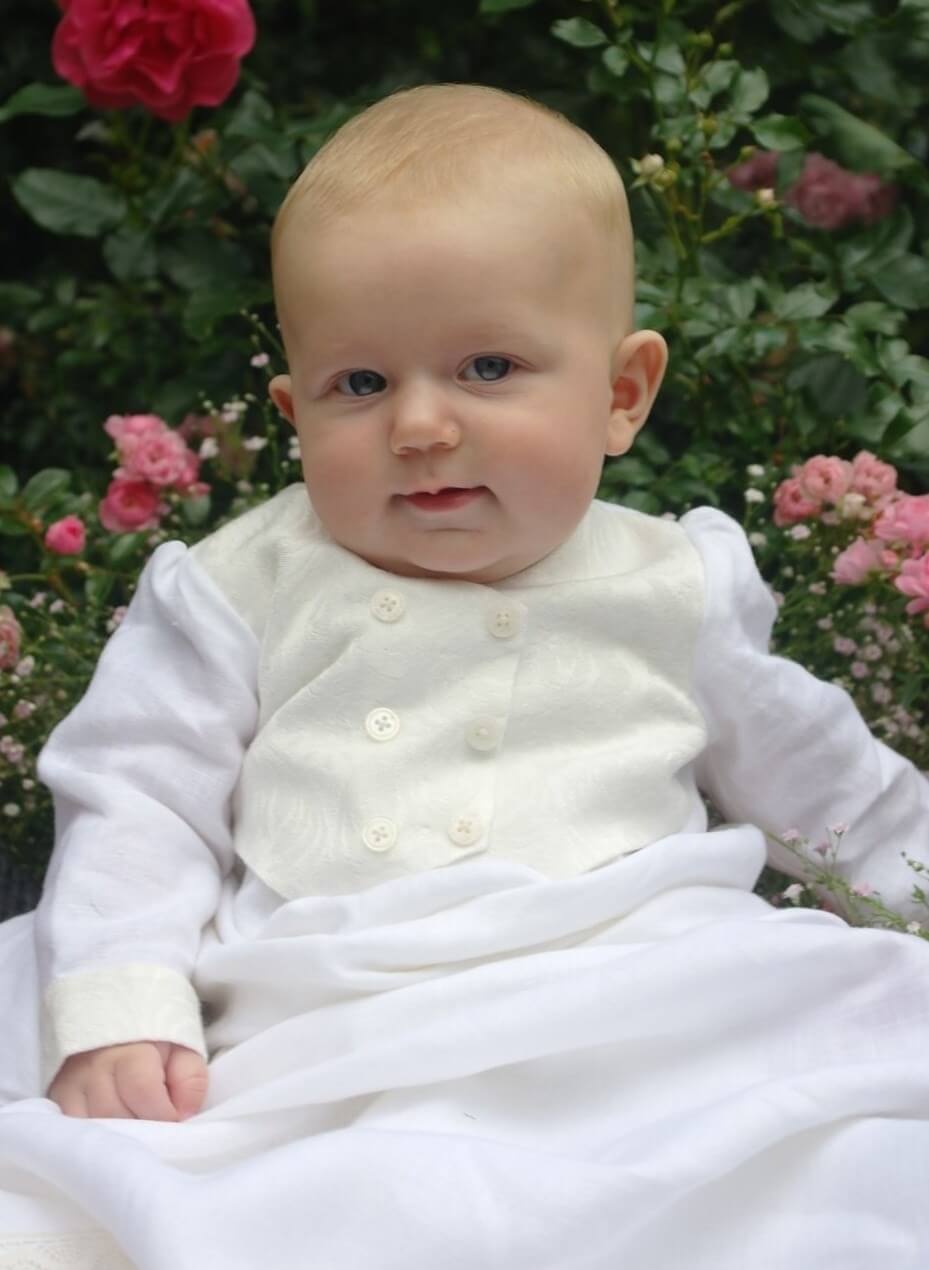 As a final tip... take a look at our unique selection of embroideries that add the extra golden edge to your Christening outfit!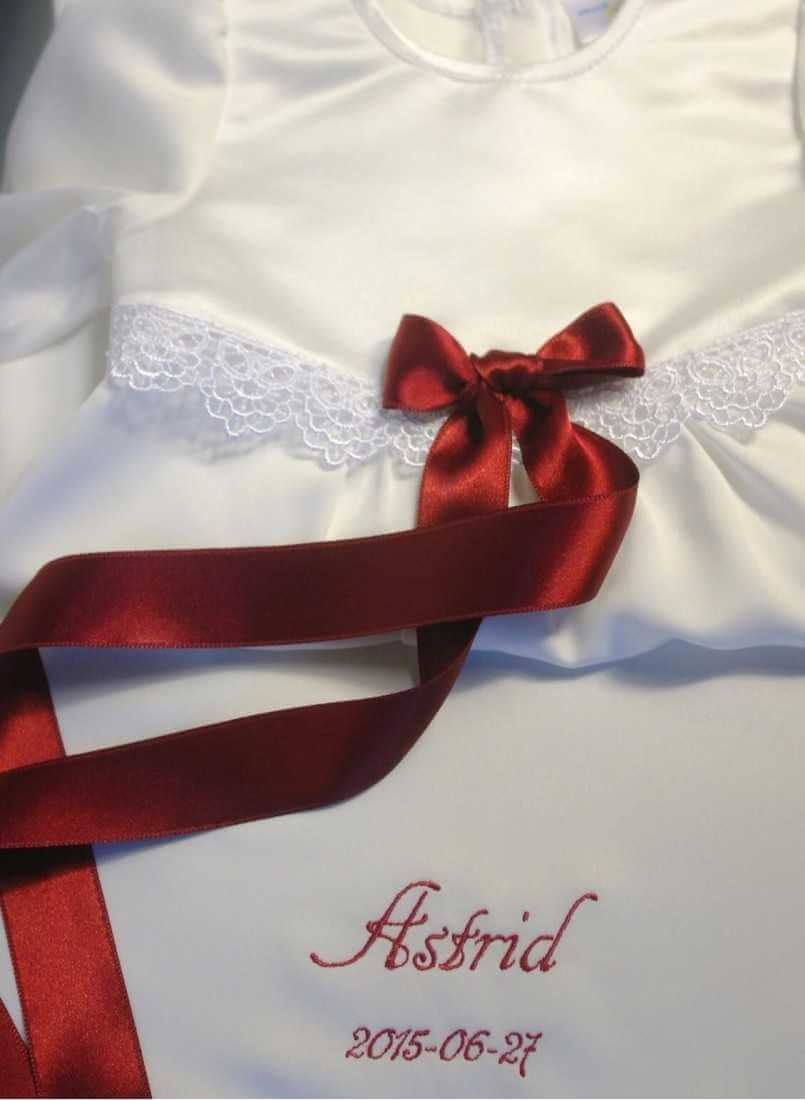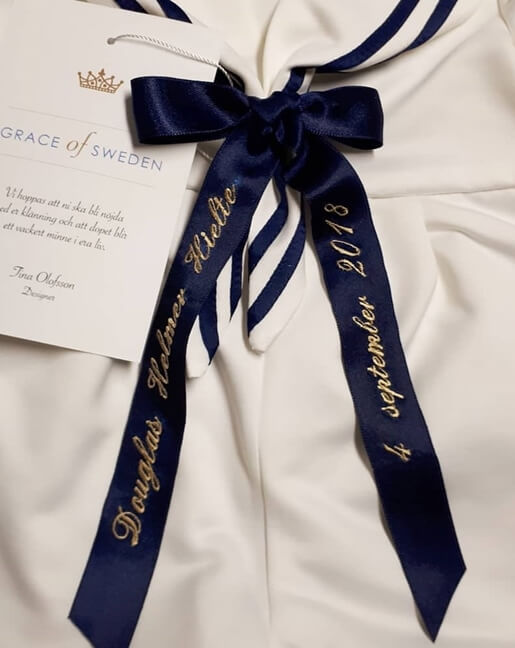 We hope that our guide has helped and inspired you in your choice of Christening clothes. If you have any questions, please email us at sales@graceofsweden.com and we will be happy to assist you.
Tina Olofsson, Designer