The christening is a memorable day for your family, with you and your baby at the center of attention, where you
want to feel comfortable and representative for your family. When choosing clothes, you can consider matching the persons' skin tones with the patterns on the clothes, creating harmony. Comfortable shoes are recommended, as you will be standing for a long time and carrying your child.
If there is a Christening dress in the family, it can be a good idea to find it in advance to try it on and ensure it is in good condition. If it doesn't fit, you can order a new one. Today there are many different options for christening attire, from Christening dresses in different styles and materials, to christening suits in various designs. You can choose modern, classic or traditional clothing based entirely on your family's taste.
It can be beautiful to embroider the Christening child's name and Christening date on the Christening dress or on the Christening ribbon beforehand. This way, the memory of the christening day can be preserved for future generations. Also, remember to by som after Christening clothes for the reception if you like to change after the Christening.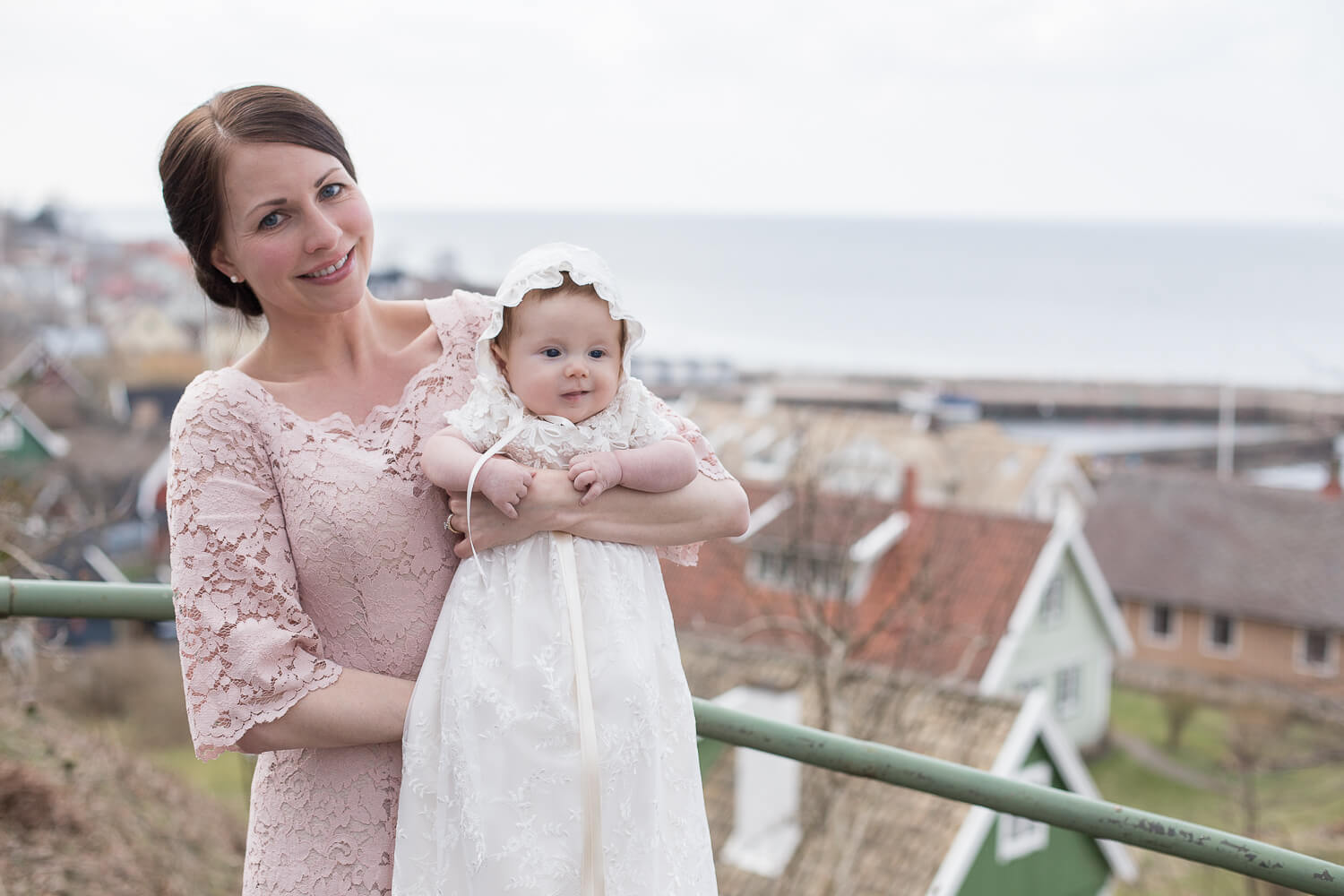 If you want to have godparents for your child, it may be a good idea to ask them well in advance so they have time to consider and book the intended Christening day. You should also discuss expectations for the ceremony so that it turns out as everyone has envisioned. Estimate the workload and set a budget. It can be a good way to create a starting point from which to make decisions. Make a logistics map of the day so you know when and where different things must be done and that all tasks are distributed to different people. Let a person with whom the baptized child feels safe be responsible for taking care of meals and bedtimes.
Book the church well in advance. During spring and summer, it can be fully booked well in advance with, among other things, weddings. Even if you want to have the baptism outdoors, or in a place other than a church, it is important to book the priest in time. Remember to have a backup plan for outdoor baptisms in case of bad weather.
Invite your Christening guests in good time so that the Christening does not clash with other activities in their lives. An invitation card is always nice to receive in the mailbox. If the guests have a long way to travel, it is a nice gesture to offer accommodation or advise on suitable hotels.
It is becoming increasingly common to have a theme at the baptism. It can provide inspiration when planning table setting and decor. Many friends and family members may think it would be an honor to join and contribute. Feel free to ask them to be part of the baptism board. There are many fun tasks to distribute based on the various special skills of the guests, for example baking a cake, choosing music, performing songs or decorating the venue. In this way, the christening day can be a memorable day, without two exhausted parents in the evening!
Music is often an important part of a nice christening. Book an appointment with the church musician and possibly hire a soloist or musician. Think about whether there is someone close to you who can read a poem or sing a special song for your child. Here you will find suggestions for baptism music and hymns.
Prepare the food or order catering well in advance of the Baptism day. Decide who is responsible for setting the table until the guests arrive. You can toast the child in wine at Baptism. The priest often gives a small speech and the parents usually greet the guests. However, it is not so common for the guests to give speeches at a child's Christening.

If there are children among the guests, it can be good to have some simple toys such as balloons, soap bubbles or other things that can amuse them and make them easily come into contact with the other children at the Baptism.
Make a photo corner and commission a friend to take photos of all the Christening guests as a fond memory of the day, or hire a professional photographer.
You can make a nice inspiration picture of what the christened child would like as a Christening present, so the guests know what would be appreciated and what the child does not already have.
We wish you a fantastic Baptism day with many beautiful memories!